Biobridges' value chain collaboration challenges model
Biobridges developed the "Value chain collaboration challenges model" aiming to visualise the identified challenges.
During the first year of the project, the partners conducted an extensive analysis of the most relevant challenges inside the value chain and outside it. This analysis was performed through a literature review, complemented by more than 60 semi-structured qualitative interviews with representatives from industry, brands, and consumers associations around Europe, involving also actors of the so called "supporting environment".

The challenges have been framed based on:
The stakeholders mostly affected by the challenge/problem (the problem owners)
The stakeholders to be involved in addressing the challenge (the "potential collaborators")
The different levels and impacts of the challenges (economic, environmental, societal)
The application fields where the challenges are more pressing (e.g. quality and stability of feedstock in cosmetics)
The deep and extensive analysis of the challenges, recommendations and collaboration barriers, validated with the experts during the Biobridges focus group in Brussels in June 2019, enabled the partners to structure the "Biobridges challenges model" (figure below).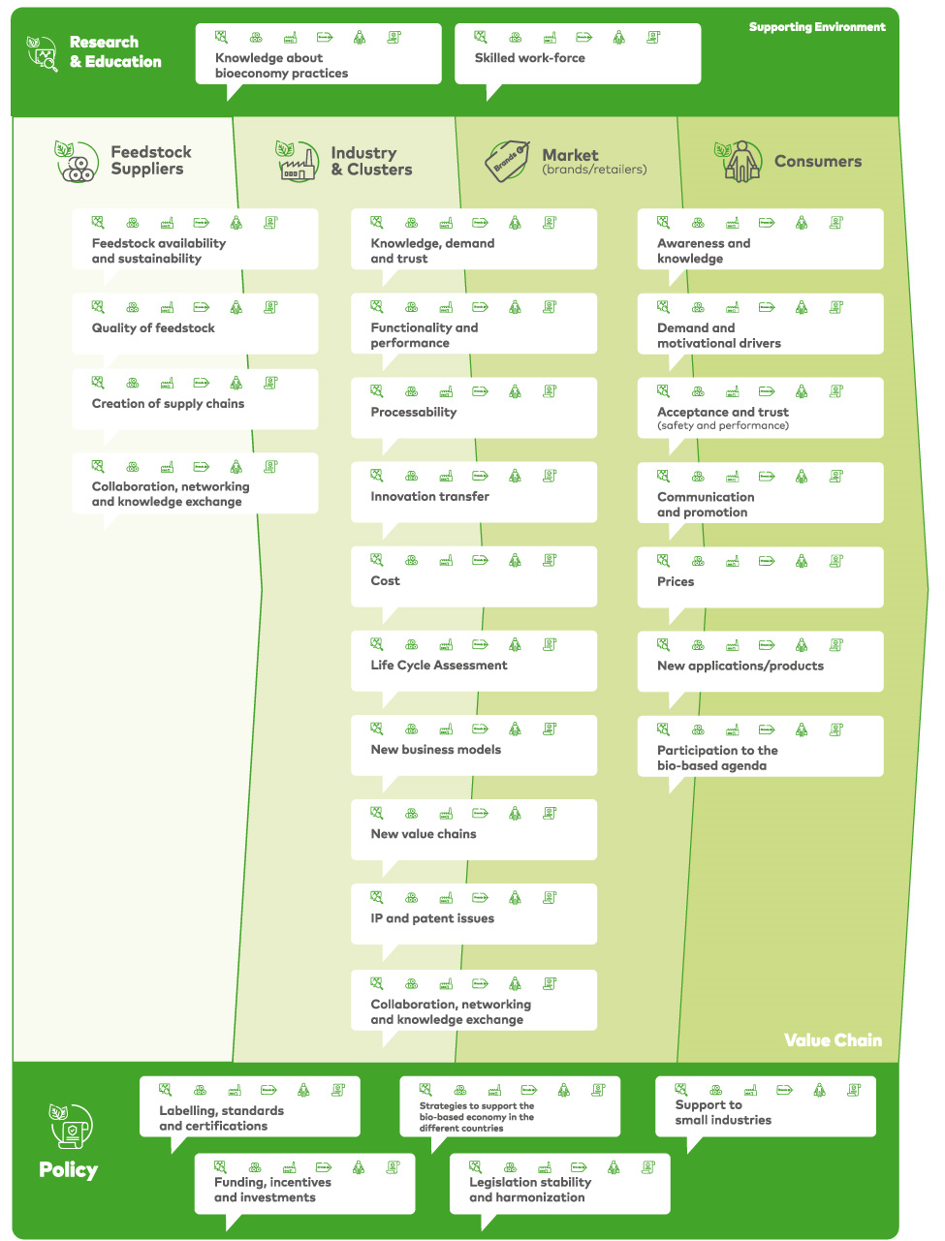 The model enables the identification, structure and visualisation of:
The challenges inside or outside the value chain (related to the supportive environment, namely, Research and Policy)
The stakeholders mostly affected/involved (where the challenges are positioned in the value chain)
The additional stakeholders to be involved
The aim of the model is to offer a practical 'tool' that can be used during the co-creation workshops to provide a conceptual mapping of the discussion, enabling an easy-to-see visualisation of the challenges, and at the same time, to narrow the discussion on certain challenges based on the scope of each workshop.
Download Document